24 march 2013 – accra, ghana
My first morning in Accra and I felt full of energy!
I watched the crowds from the bustling sidewalk along Darkuman Road when a 12 seat-minivan halted in front of me. I had no idea where it would go but it was obviously public transport, so I just stepped inside. I didn't have any plan for today, I was just excited about where I would wind up.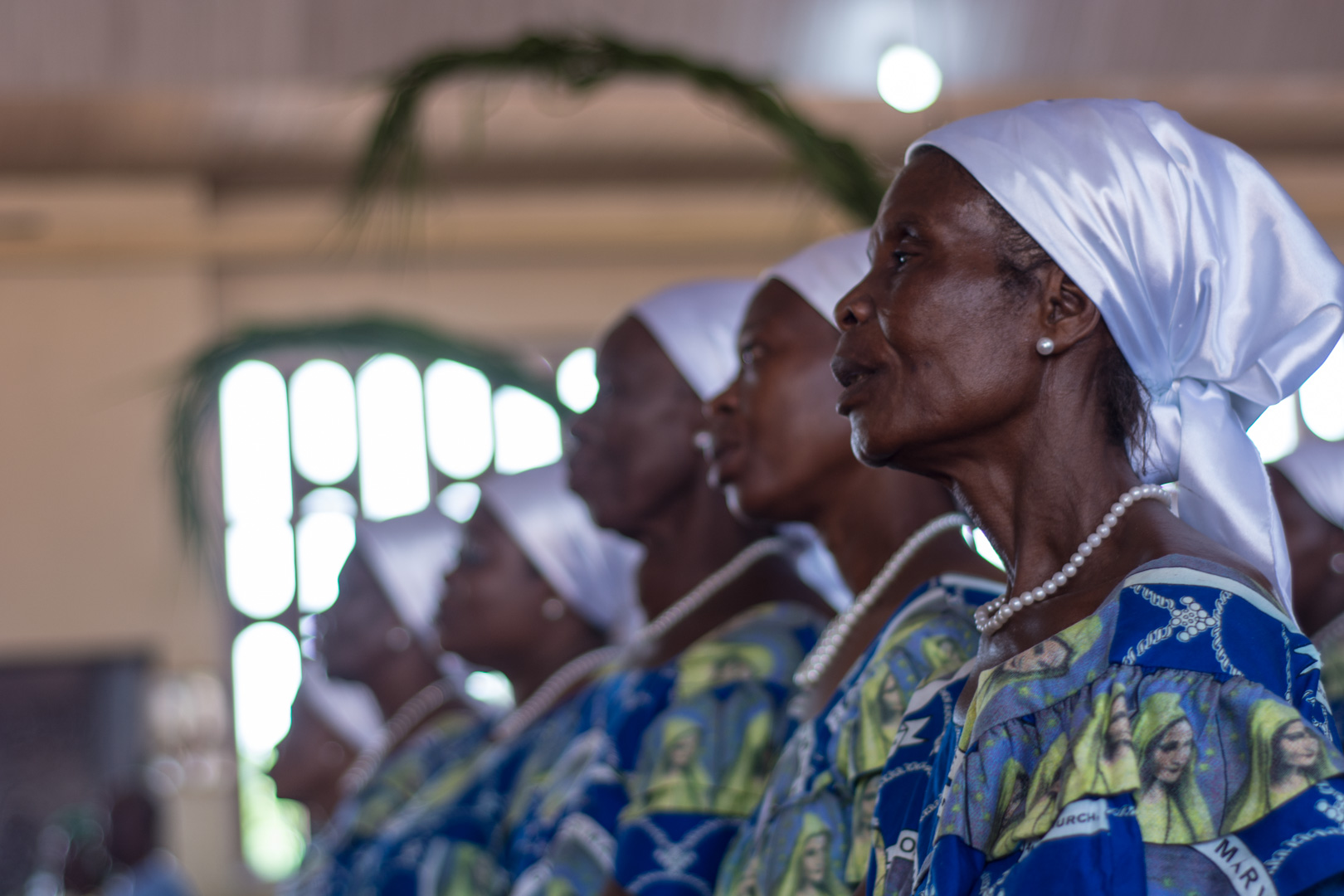 The minivan fought itself past several traffic jams, hobbling up and down bumpy paved and dirt roads through poor neighbourhoods while shaking me and the other tightly packed occupants around. After roughly 15 minutes I jumped off the Tro Tro at a random stop that felt right to me and starting walking.
When I start a new trip I feel this kind of nervous but positive tension: my step gets energetic, I'm more aware of my breathing and I can't help smiling people around me. The houses I pass looked mostly like homes, their walls plastered and painted in earth tones with the occasional bright pastel green, blue or purple splashed in between. Singing and music drifted from some of the larger houses onto the street and signs indicated they were churches of some kind. Not just one, but up to three churches on the same street!
I tried to peek inside of one of the house-churches when I was suddenly surprised by a large group of mostly children coming down the road. They were neatly dressed in bright and well-washed cloves and were carrying palm leaves in their hands. I realized it was Palm Sunday today, a holiday mostly ignored back in Holland, but apparently quite a big thing here in Ghana.
Tro Tro
The sometimes rickety and always unsigned minivans that ply the streets of Accra are known as Tro Tro's and they are the city's primary form of public transport. Tro Tro's have a driver and a mate who makes sure the fare is paid and who also indicates the route the Tro Tro will take.
Each route has a particular hand signal associated with it, like making a circle with your finger pointed downwards if the van is heading towards the big roundabout at the intersection of Nsawan Road and the Ring Road. The mate hangs out of the window making these signs as he nears one of the many regular stops.
Further down the street, beyond a muted orange brick wall, I discovered yet another church. This one had a proper bell tower and was much larger than the previous ones. Gingerly I entered its expansive grounds and to my delight I saw a crowd gathered around a man who was dressed in a bright red gown, was wearing a white mitre on his head and held a large crooked golden staff. I was almost a caricature of our famous St. Nicolas.
The robed man was slowly walking towards the building's entrance with his arms wide and the big robe almost dragging along the ground. He was accompanied by a throng of people who were waving large palm leaves on the tune of a seven-man band with trumpets and drums. Intrigued by this development I followed the crowd inside at a respectful distance. Once inside a bright crowd standing upright in dozens of rows of dark brown church benches greeted me while singing and swinging to tune a different band.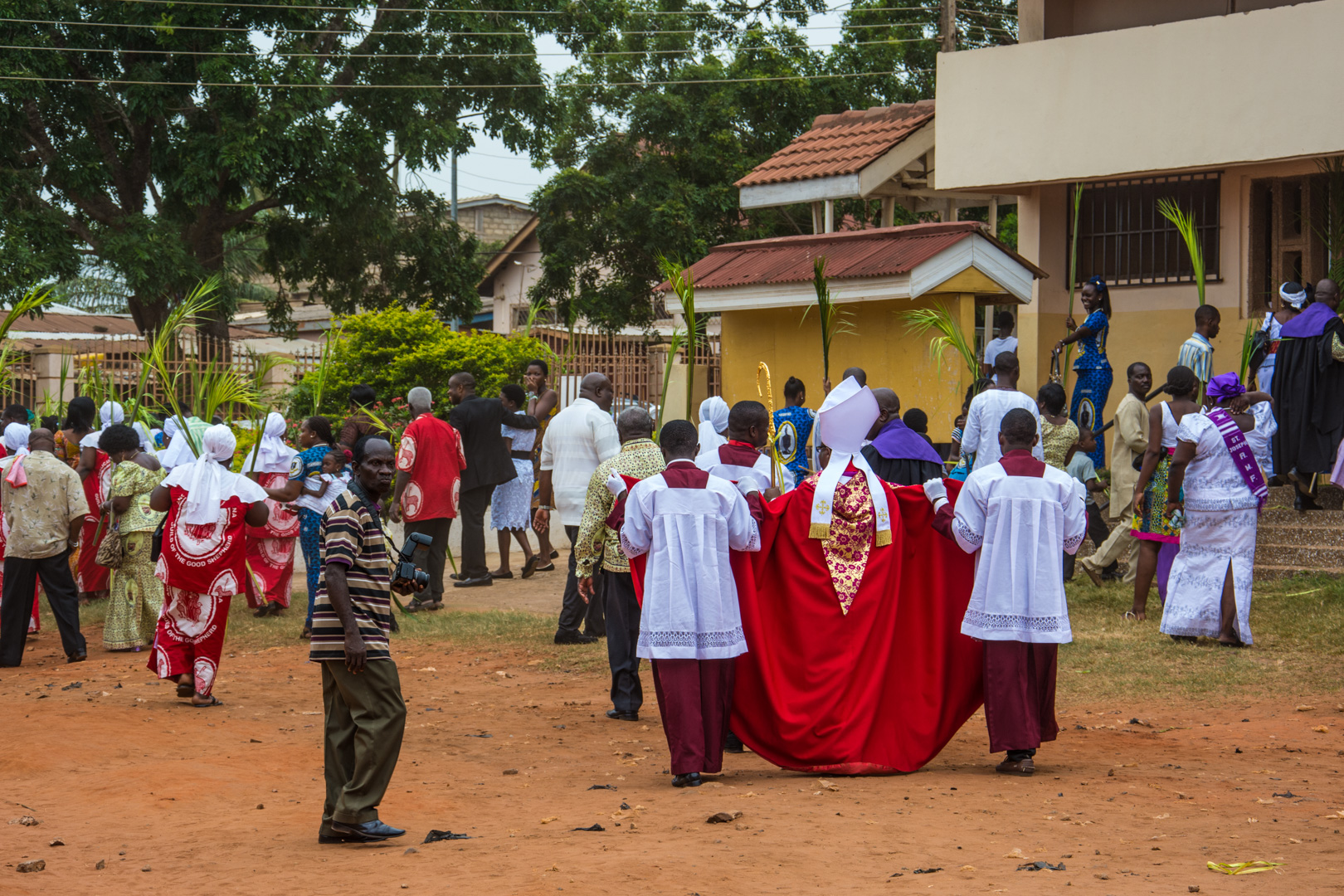 I immensely enjoyed the atmosphere: this was so much better than the boring Dutch church services. I remained at the back of the church trying to look inconspicuous. After all, I just randomly wandered in and didn't want to disturb the service. As the only pale-skinned person I wasn't successful for long.
One of the priests spotted me and walked up to me. He was a bald but powerfully build and dressed in a shining black-and-purple robe, wielding a green palm frond almost like it was a staff. He was near my age and his smile was quite charismatic and inviting. He shook my hand, welcomed me to his church and invited me to sit all the way up front so that I could take good photos.
His easy manner convinced me. I accepted his offer and before I knew it he was guiding me to the front of the church. I shuffled carefully past some of the women who were already positioned on the front benches while trying not to step on any toes. They were all dressed in matching colorful outfits, middle-aged and up and looked rather important and not particularly amused at this new intruder. I sat down as indicated and from my seat I had an excellent view of the altar and the pulpit. The man in the red robe I had seen earlier had taken up a position of honor in a grand chair with covering. The church band was set up just in front of me and to the side there was even a camera crew set up to making recordings of the entire event.
The first part of the church service went past me like a blur, with speeches, chants, singing and reading biblical texts from a beamer. After some 45 minutes of religious showmanship I was starting to wonder when it would end. Also, my butt was not that practiced with hard wooden church benches. The the priest who greeted me earlier sat down next to me and introduced himself as Reggie. We talked a bit and he said I was really lucky to wander in here as this church had the honor of a visit of the Archbishop of Ghana: the reason all the camera's were here. He asked me for my business card and then he winked and said the service would be over soon and then I could stay and drink a few beers with him and other priests. I nodded: that would be really cool!
After a few more songs and sermons the pastor went to his stand and started a speech thanking several people for their contributions to this day. But I could barely hear what he was saying because I was too focused on what he held in his hands. It was a small bright business card and he turned it between his fingers while speaking. It was my business card! I had no doubt at this point, they were going to introduce me.
"And we want to thank our honored guest from the Netherlands, Philip" the pastor concluded his gratitude speech while directing his gaze towards me. Soon the whole church turned towards me and stared. The pastor waved me towards him and I stood up and walked to the altar while the rest of the church applauded. He motioned me towards the donations box at the front of the central aisle and the band started playing again.
The women of the church stood up and one by one formed a long line and started dancing down the central aisle, wiggling their hips and waving paper money in their hands and approaching me in a Rumba style movement. They ended their dance in the money box in front of me where they suggestively slipped their notes into the slot one by one and then moved back to their seats. I just stood there swept along it all feeling like I was acting in some kind of movie.
I went back to my seat and just a couple more sermons later the service was concluded and people slowly started moving towards the compound while chatting merrily. When the crowd was slowly dispersing Reggie motioned to follow him. We entered a small white building that was also on the church grounds and inside were most of the priests, including the Archbishop.
They opened several plastic cooling boxes which carried copious amounts of beer and snacks. I was seated right across from the Archbishop who was enjoying a full glass of liquor from an expensive looking black-labeled bottle with gold lettering and consuming a plate of luxury hors d'oeuvres. The other priests were laughing and joking and enjoying their beers and I certainly enjoyed mine after the ordeal. I spoke to the Archbishop briefly, but he seemed largely bent on enjoying his drink in solitude.
After a couple of beers Reggie said that the priest were about to leave, but he was meeting a few friends for a drink in the town later. He asked me to join them and that was just the start of a couple of crazy days in Accra.